Jiřina Nepalová featured among Czech Most Influential Women for the sixth time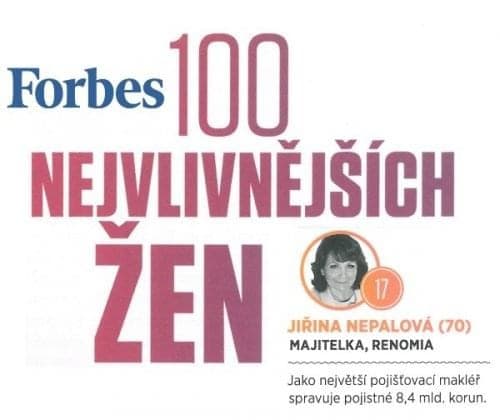 Jiřina Nepalová, Founder and Director RENOMIA, features, for the sixth time, in the company of the most influential women in the Czech Republic, a ranking published by the Forbes magazine. This year for the first time, the Czech Power Women ranking features 100 most influential Czech women. Jiřina Nepalová ranked 17th in this year's ranking and has featured high up on the chart every year since 2012.

Forbes publishes annual rankings of 300 Power Women. The precise of the American publication monitors indicators such as turnover, profit, client base, employees, international expansion, new acquisitions and more. Expert selectors from various industries assist with the selection of women from various fields and professions (businesswomen, managers, women in the public sphere, finance, non-​profit sector, sport or justice).

"Being among the 100 most influential women in the Czech Republic is a great honor for me. Forbes magazine is one of the most prestigious media in the Czech Republic. I see the rankings as a recognition and endorsement of the whole RENOMIA and all of its employees, who I thank very much for this - without them we could have hardly built such a successful business, "says Jiřina Nepalová, Director RENOMIA.

Jiřina Nepalová also answered questions in a poll in the current issue of the Forbes magazine alongside the other laureates. The questions related to the topic of the most valuable advice she had ever received during her career business and what she would advise start-​up entrepreneurs. The answer is her favorite motto: "If you want to achieve something, keep your eyes wide, concentrate and make sure you really know what you want. Nobody has ever hit the target with eyes closed."

You can buy the latest edition of the Forbes magazine on the stands or online directly from the publisher from 3 November 2017.